The concept of e-learning has been a trend that has emerged in the field of education. In recent times, its importance has increased dramatically because of the Covid-19 epidemic. If you're thinking about setting up an online tutoring business you've made the right choice.
It's crucial to keep a variety of things in mind when deciding to start your business. It's essential to duplicate the experience as accurately as you can for it to be successful since the entire concept behind tutoring is based upon this knowledge.
Therefore, in this article, we'll take a closer look at what you'll include in your tutoring site to recreate the real-world experience, and how to build a similar site to your specifications.
First, we'll look at some of the reasons why online tutoring is growing and is expected to continue to grow.
The reasons why students choose online tutoring are to improve their skills
Many reasons are making increasing students choose online tutoring to master a subject rather than regular offline tutoring. Many of them are even abandoning their classes to study things via this method.
Why is this trend rising steadily?
Few reasons behind it are as follows: 
1. Access to a wider pool of knowledge
First of all, tutoring online gives students access to a wider pool of knowledge. Students are no longer dependent on the local teacher and can take lessons from tutors all over the world! This lets them choose tutors with a thorough knowledge of the subject, and a tutor who's the ideal match for them.
2. Effectiveness in cost
Online tutoring also proves to be affordable. Students can receive top-quality education without spending additional money for transportation or premium rates established by skilled tutors. In the online world of tutoring, the majority often, there's someone who can provide superior instruction and at a lower cost than traditional tutors.
3. The ideal speed of learning
With this method that students learn, they will learn at their pace. In classrooms, teachers instruct students at their own pace regardless of whether a student can keep up or not. When students learn online with a tutor of their choice the tutor will instruct at the pace of their preference.
Also Read, Top 5 Contact Form Plugin For Your WordPress Website
4. Higher quality learning materials
While learning through online tutoring is a good thing, the quality of educational material is also improved since there are a variety of high-quality information and reference materials accessible. It can help you solve your questions. This means that you can also comprehend concepts better than in a classroom in a traditional classroom.
But, they aren't the only motives for students using online tutoring. However, these four are the largest currently available and they will be around regardless of the spread of the pandemic.
What are you looking for to have on your online tutoring business WordPress website?
If you now understand why online tutoring is so popular and growing, let's look at the essential features essential for every online tutoring website. We've already explained that you must replicate the experience.
What are the essential features to make it work? Let's take some look:
1. Simple course installation
The first thing to consider is that your website should be able to create an online course quickly. If it takes too long and effort to create courses on your website and you're discouraged from creating amazing courses. So, it's a good idea to locate the Learning Management System (LMS) which allows for easy course creation to create your online tutoring website.
2. Ability to include reference material
The need for quality reference material is a fact for learning. Only with reliable references that both you and your students can verify that the information they're receiving is accurate. Thus, your website must be able to add high-quality references (i.e. docs, PDFs, eBooks, tutorials, etc.) within your course materials.
3. Video conferencing functionality
This is pretty obvious Even after you've created the most effective course in your field Your students may be confused and you'll have to dispel the confusion by providing explanations.
Therefore, your tutoring website needs to incorporate video conferencing features by integrating with popular video conferencing applications such as Zoom, Google Meet, and others. By using conference calls, you can solve the questions of your students all in one go.
4. The ability to hold a private session
As we've explained earlier regardless of the content of your class is there will be students who may be unsure about certain aspects that you'll need to clarify by giving explanations. Some students may be unable to grasp certain concepts, even during conference calls.
For students who are struggling with the concepts, you may have to schedule one-on-one sessions with the students. So, your tutoring online website should have the ability to hold these one-on-one sessions.
5. eCommerce integration is a must if you wish to sell your courses
If you intend to sell your classes for a fixed price in addition to the tuition fees it is also necessary to integrate e-commerce capabilities on your website. It's a big deal since it requires flawless integration and functionality for a shopping cart system and payment gateway service and your CMS.
If one of these elements isn't working properly or is not well integrated the payments won't be processed, and you may not be able to sell your courses.
6. The ability to add forums for community participation
Learning is enjoyable when it's done in a group. Students often learn faster when they are part of group discussions or other types of study in groups, therefore educators must offer that type of setting.
How do you accomplish that on the internet?
You can do this with forums. It is possible to set up forums for your classes, to help your students share what they're learning. But, as with the other options, this can be added only when there are technical options and support for it within your LMS.
7. The ability to create buddy groups or study partners that are assigned by the teacher
Sometimes, learning may be enhanced by forming groups of students whose personalities are compatible. As a teacher, you'll find that certain students can learn faster when together with one another. This is why you may wish to create groups of study to aid them in learning more quickly. To do this your website should be able to form group study groups that have study partners selected by the teacher!
8. Gamification features
Another way to achieve the aim of making learning a pleasurable experience is to reward your students when they finish their classes or complete certain milestones on their path to learning. This is why Certifications, Badges, and other similar things are offered in the education system.
They're accessible in the world of e-learning they are collectively referred to by the name of the Gamification features. When selecting a platform make sure that your LMS offers these features too.
How to create an online tutoring website with these features?
When you are aware of the features that must be present on any online tutoring website You're probably thinking about ways to incorporate these features on your site Isn't it?
The key is in getting an LMS that has all these functions. If you're here, there's no have to search any further since we'll tell you which LMS has all these features.
Step 1: Creating an Online Tutoring Website
The first step is to start by creating an online tutoring site using WordPress. To make a website you'll require a domain name along with web hosting.
The domain's name refers to an URL address that visitors enter into their browsers to open your site.
Web hosting is the place where users keep the files and content of their websites.
There are so many other plugins in the market like LearnDash, LifterLMS, Sensei LMS, Tutor LMS.
But LearnDash, the WordPress-based LMS platform, is, without doubt, the most used platform that offers all of the above-mentioned features and offers a lot of flexibility and scaling. It was first introduced in 2013 and a space of just 8 years it has managed to establish itself as the most popular option of LMS for instructors on their own as also for universities and schools.
BuddyX and Reign is the LearnDash compatible theme. BuddyX theme is a free WordPress theme that works extraordinary and performs very well. This theme is completely responsive that gives a smooth experience on both desktop and mobile. And in the other hand Reign theme is a premium WordPress theme that comes with multivendor support, it will provide your vendors to sell their products. This theme comes with unlimited color and layout options, typography, widgets, multivendor compatible store properties, and many more.
There's no reason it shouldn't be a good idea for your online tutoring business as well!
Step 2: Installing and Setting up the LearnDash LMS Plugin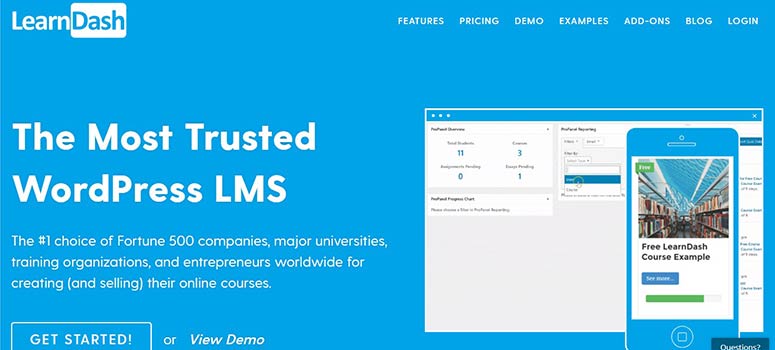 It is the next thing to do to install the LearnDash plug-in. LearnDash is a well-known educational management software (LMS) plugin that makes the creation of online courses easy thanks to its powerful features. It can be used to create quizzes, classes lessons plans, quizzes, and much more.
After the plugin has been active and installed, visit LearnDash LMS Settings > LMS License. You can then enter your email address and the license key.
Then click on the update license button. Then, click on the PayPal Settings tab. Within this tab, you'll have a range of choices. Fill them in and then click the Save button at the top of your display. These settings will enable you to get online payments from your customers.
Step 3: Using LearnDash to Create Your Courses
For creating a new course on LearnDash you need to go here: LearnDash > Courses > Add New.
Now you'll be on an entirely new page where you'll be able to begin making your course. It is possible to begin by adding a title for your course. Once you have added the title it is time to create a description for your course.
After you've completed your setting, click the Publish button to allow your class to go live and be accessible to users.
Step 4: Adding Lessons to Your course
It is the next stage to develop courses for the course. To do that, you must go to the Builder tab. There you can make new lessons and quizzes for your course. Select New Lessons to create an instructional lesson.
After the lesson has been created Once the lesson has been created, click the Settings tab. This is where you can alter the look of your lessons, as well as control the access of users.
After you have finished you are done, save your settings selecting your option to Save Draft. option.
Step 5: Enabling Assignments with LearnDash
LearnDash allows you to include assignments in your classes. This feature is accessible under Lessons > Settings. Here you can enable Assignment Uploads. This can expand the range of options with which you can limit the size of your upload file and restrict the number of uploads per day and more.
After your assignment has been created Once you have completed your assignment, you can access them within LearnDash > Assignments.
Step 6: Creating Certificates for Your Users
It is the next stage to make certificates for your learners that will be given after the completion of the course. To make a certificate, visit LearnDash > Certificates.
Then click Add New. This is where you can design your certificates, and then modify the design to make them more attractive. Once you've done that, you can connect it to any course you like.
Conclusion
Now, you're aware of the elements that should be included on your online tutoring website as well as the LMS that will provide all of these features for building your website. So, you're in a great place to begin building your e-Learning website.
But, establishing the site is a lot of work and experience. When it comes to websites for e-learning, this is even more so. So, if you've never created a website before, you can seek our help for the creation of your tutoring website online.
Some Interesting Read:
Best Collaboration Tools For Business, Teams, And Education
Using Predictive Technology for your business' future