Many people ask me why they should use the BuddyPress reactions and status plugin on their websites. They say "I already have a Facebook-like interface." But do you have Facebook-like emoji reactions and status updates? People enjoy using emojis, reactions, and updating statuses to connect with other people.
There are many reasons why you should use the BuddyPress Reactions/Status Plugin on your website. In fact, I've used it on several sites myself. It makes your site look more facebook-like and thus it multiplies the customer retention rate by hundreds.
If you're looking to build a community around your website, you must check out the BuddyPress Reactions & Status Plugin.
What is the BuddyPress Reactions and Status Plugin?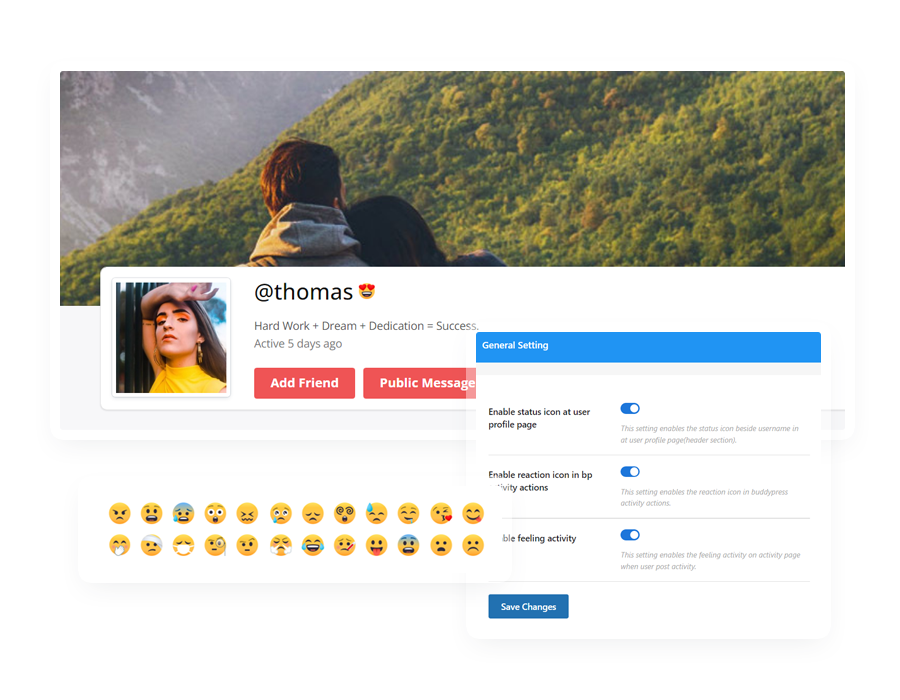 The BuddyPress reactions and status plugin allow your community members to upload status as in they create status in Whatsapp. The plugin allows users to react to each others' posts. You can also set the default reaction for all new posts.
Allow your members to set a status symbol and phrase under their profile header and display their status icon on all uploaded activities using BuddyPress status. BuddyPress Status has a built-in collection of emojis and also lets you upload your own set of custom icons.
BuddyPress Reactions and Status – Features
BuddyPress Reactions and status plugin allows you to establish your online community website completely similar to facebook's interface. Here are some amazing features packed in this plugin:
Update Status – Your community members can update their status on their community profile and showcase it to all the members of your online community.
Upload Custom Emojis/Icons – Upload a collection of tailor-made icons for use on your website.
Give Reactions to activities – Your community members can give emoji reactions to activities happening throughout the community.
BuddyPress Reactions and Status – Here's a quick guide
The BuddyPress reactions and status plugin is easy-to-use and it mixes up well with the design of your online community website. Here's a quick guide to using this robust plugin!
Member Profile POV
As you can see here I have logged in as a member. Now, a status is showing on the header where my name "@demo" is written, and there's an emoji right next to it. Your member profiles will look similar when they add a status or emoji to their profile.
Moving ahead, they need to click on the "profile status" from the menu. Once they click that a settings page will open which showcases all the previous statuses and provides you the option to update a new status and emoji to your profile.
You can add and save up to 10 different statuses. The status plugin allows you to revisit old statuses and re-upload/edit/delete them. Select the "add" button to just save a status for later use, and click on the "add & save current" to update your status.
Activity Stream POV
Here's how to upload a status on the newsfeed:
You need to click on the
icon situated beneath the "what's new" or posting section.
Once, you click on that option, you will be presented with two different status options. Those two options are feelings and activities. You can choose any one of them to post a facebook-like status update. For instance, you can post how you are feeling with an emoji or what you are doing.
And, it looks somewhat like this after uploading! Share your current feelings with your friends and other community members with this robust BuddyPress Reactions and Status Plugin.
Wrapping Up Words
In conclusion, the BuddyPress reactions and status plugin makes it easier than ever to react to other members' content and upload statuses. Whether you have a blog, forum, or social network site, you can easily add reactions and statuses to any post, page, comment, photo, video, or link. This means that your users will always be able to see when someone reacts to their post using emojis. Well, that's all with this guide, we hope you got a clear understanding of our robust plugin!
---
Other Interesting Reads: